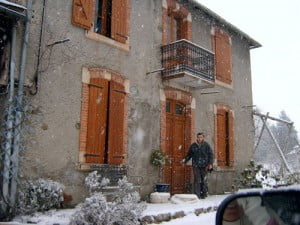 We offer a comprehensive property management service for overseas customers or those with a 'maison secondaire' in the region, giving you the peace of mind in the knowledge that your property is being properly looked after when you are not around.
We can help you with a wide range of services, ranging from removing hornets' nest to arranging a delivery of fuel. Some of the problems we have been called out to overcome are wind/storm damage, burst pipes, vandalism, vermin, lost keys and pool algae.
Every one of our clients is an individual, and has different needs. The amount of work we do for clients often depends on their country of residence, whether or not they speak French. We don't pretend to know it all, but with our local contacts we can find a solution for you no matter what your requirement is.
Our complete package starts at only 30.00 euros per month. Included in this package is not just keeping your keys securely – but also a monthly check of your property. You receive an emailed report after each visit providing a usual audit trail for insurance purposes.
Mail forwarding – is included and so are extra visits after any severe weather conditions, taking away any issues and worries that you might have.
Emergency call-outs – hopefully not necessary but these would be charged at our basic hourly rate. This could be for guests or friends you might have staying, police or meetings with other public bodies.
We will take care of the property, alert you to any possible problems before they become real issues, and send you photographic evidence of anything we need to discuss with you. We will take deliveries for you, shop for essentials prior to your arrival, air and clean the house, mow the lawn, look after the pool – either on a regular or ad hoc basis. These services are undertaken as professionally and thoroughly as everything else we do.
Please contact us to receive further information on how we can tailor our services to meet your requirements.